EMPLOYEE SPOTLIGHT – Cristiano Bombardieri Propulsing Orion at Airbus D&S for ATG
This week we've had the chance to meet our colleague, Cristiano BOMBARDIERI  –  Propulsion Engineer and Performance Analyst at Airbus Defense & Space on behalf of ATG Europe.  Find out more about who he is and what drives him daily.  
 Cristiano is one of those pioneers and great explorers working on the future of what's pushing the boundaries of space exploration further – the Orion mission. A partially reusable crewed spacecraft to be used in NASA's Artemis program. A spacecraft which consists of a Crew Module (CM) space capsule designed by Lockheed Martin and the European Service Module (ESM) manufactured by Airbus Defense and Space. 
Thank you for taking the time  Cristiano  -  First if all, would you tell us more about you, your background and how you came to work for us at ATG Europe?  
First of all, thank you for having me today. In terms of background – I graduated from the Politecnico of Milan in Aerospace engineering in 2010. I did my PhD at the German Space Center (DLR), in Lampoldshausen (Stuttgart) along with other research projects until 2017. As you may know, Lampoldshausen is the biggest Rocket engines testing facility in Europe and the place i wanted to be at. By the end of the year, in November I noticed ATG's announcement regarding a position for Orion which usually happens in Bremen, but as a matter of fact this one was going to be taking place at the facility in Lampoldshausen  but on ArianeGroup side. 200m from where I was already working with DLR!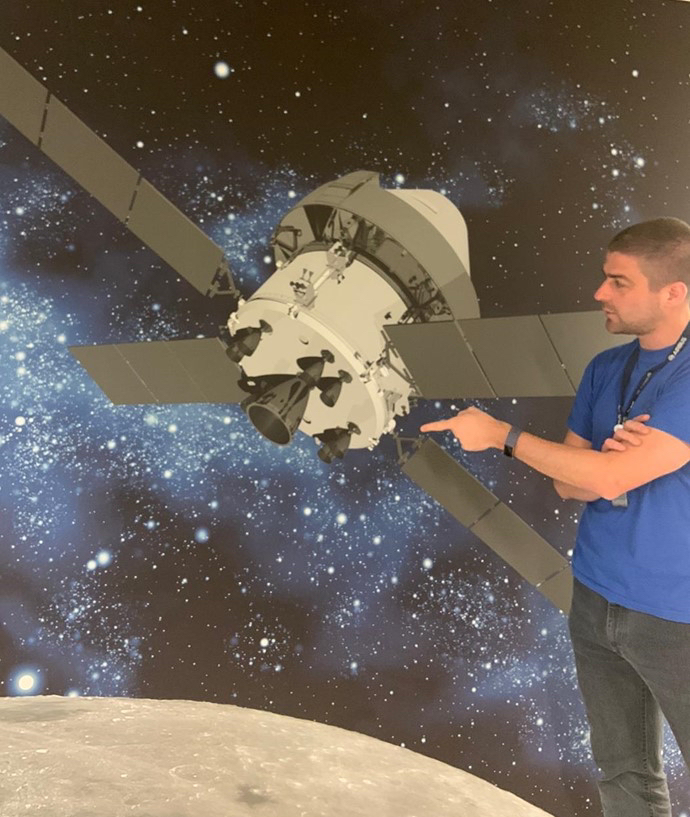 Cristiano Bombardieri
Propulsion Engineer and Performance Analyst at Airbus Defense & Space on behalf of ATG
ESA – Orion reaching the Moon's orbit
I was lucky because they happened to be looking for a local resident as an interface position between Airbus Bremen and ArianeGroup as one of the main suppliers. The position was requiring more managerial skills and I realised that my expertise was more destined to technical positions. I felt a bit frustrated, I wanted to have hands on the project.
So, I called my current manager and asked him to change perspectives, that I wanted to be more on the technical side of things. This decision not only me allowed me to stay, but as of January 2019 I joined the Propulsion teams working on the current Orion capsule project with Airbus Bremen.
Tell us more about your position, and what does it entail? 
I am a Propulsion engineer and Performance Analyst at Airbus Defense & Space working on Orion. I focus mostly on the PSS or Propulsion sub-systems, primarily regarding engine performance and fluid dynamic analysis, e.g., how Orion will perform during flight and its propellant consumption. The PSS team is composed of 10 engineers, while in the overall project we are 147 pp in Bremen, and 70 of these approximately are engineers. The rest take part in managerial positions. As you may have noticed, we are a lot working on the project, separated in different departments as well as a within all our international suppliers. 
What would be a typical day for you?  
We are planning to begin integration test campaigns and Artemis-1 launch soon. In parallel, this last week we have been finalising the CDR (Critical Design Reviews) for Artemis 3. We've in fact upgraded the design of Artemis 1 & 2 and hope to get final validations before production
We are working in parallel on three missions of Artemis, and we hope to fly Artemis-1 by February 2022. NASA's first mission will seek to test the SLS (Space Launch Systems) that will thrust Orion on its trip, along with the rest of the systems. We are on our final stretch as NASA has just finalised stacking SLS with Orion. 
On a deeper note, it's very stressful. We have so many other tasks in parallel. So much is required of us, as an example, in September I must have Artemis-1 flight analysis ready, and the CDR of Artemis 3 is quickly coming up. We have a lot of work. 
Any challenges or successes you wish to acknowledge?  
Last year, in September, we finished the qualification review. It was a big milestone especially for our PSS team. We did an excellent job!  
The delivery of the first ESM is when the stress was at its highest. It was the moment when we saw all that work come to fruition. 
I have a special mention for our leadership and the team's quick reaction in handling the recent pandemic. We did face some slight issues with our suppliers, but we have managed to mitigate any type of delays. They truly worked wonders. 
"Innovation is about educating new generations, our future colleagues and passing on knowledge to build on .." 
Could you tell us more about Orion's propulsion system and how it's all going to work?  
I could talk all day about what is going to take Orion on its trip to the moon!  
The main engine is a heritage from the space shuttle OMS orbital manoeuvre systems. It's approximately 23 kN  or 2.3 tons of thrust. Delivered from NASA and I have to say it works. All those engines were there from the Shuttle Program, and we thought why not, let us use them!  
I'm sure we are all very interested in you answer, what does innovation mean to you today, having witness such progress? 
On the ESA side, I feel it's quite slow. On a more general term, efficiency in terms of technology and processes is key.  
Structures of spacecrafts for example did not change that much from what we had in the past. The performance is similar, but the real innovation lies in the processes, the tools and the communication between the teams involved.  
NASA – Orion and its propulsion system
Keep in mind that ESM is based on the ATV module (automatic transport vehicle) built in Bremen to support the ISS. It worked perfectly we built 5 of them. ESA (European Space Agency) furthermore proposed to it to NASA by adding a crew module and other tweaks to the engine and that's all you would need to go to the Moon. Orion was born. 
We also have 8 auxiliary engines of 400 N thrust for small manoeuvres and backups. And 24 RCS (reaction control systems), they have 20kg of thrust and just change the orientation of the capsule. A total of 33 engines will be working on Orion. 
I handle all the quality and performance of all of them.  
What are the objectives you have set for yourself and for your team?  
Right now, we are fully focused on the flight preparations. Our chief engineer in propulsion will be flying to the Cape for launch. He's a lucky one but hopefully I'll be attending Artemis 4 or 5's launch live, I need more experience! As for us we will be ready, on the lookout, in the back office in February supporting the mission. Lately we are learning on how to interact with the flight controllers back at NASA.  
We have a motto at ATG 'Accelerating Innovation', and it stands witness to what people like you do on daily basis. What does it mean to you? 
It's all about pushing the boundaries of technology. Innovation leads to research and investment. Innovation is strongly about educating new generations, our future colleagues and passing on the knowledge to build on. We must keep up and build upon what we have acquired. 
A fun fact that not many people know about you.  Outside of your technical scope ? 
Well, I'm quite the football fanatic with a nerdy side, I love LEGOs. Such a nerd that one evening I went out with my work colleagues and decided to bring an outside friend with us. We started making some nerdy jokes about Orion and work, and my friend looked at me and quoted some Big Bang Theory episode about us.  
What would you do for a career if you weren't doing what you are currently doing?  
To be honest, I never dreamed to be an astronaut, I have always seen myself more on the technical side. I have to admit that I am very lucky to be here, and I don't think I would want to be doing anything else. I mean, what's bigger than working on Orion and our return to the moon. 
But, if I must give an answer: it would be football player, definitely. 
That's all for today but thank you Cristiano for taking the time to answer these questions which fully reflect the dedication and passion that ATG Europe holds dear