ANNOUNCEMENT Anna Dimoulis joining ATG Europe as Legal & Contract Manager
ATG Europe is pleased to announce that Anna Dimoulis joined us as a Legal & Contract Manager, starting on the 1st of October 2021. Anna will provide the company with a compliance oversight, ensuring that all our legal and contractual processes move smoothly and compliantly from start to signature.
Gian Carlo Coletta, ATG Europe's Chief Executive Officer said:  « We are very pleased to welcome Anna, with her background and experience in tech environments she will contribute to the protection and security of ATG's interests and the ones of our employees… »
Anna DIMOULIS is a legal and contracts manager, with a demonstrated history of working with commercial contracts in the space, defense, and institutional sector.
Anna is originally from Finland but also has Greek roots. She obtained a master's in law at the University of Helsinki and her previous post was as Head of Legal and Contracts at Sapienza Consulting. Anna started her career as a trainee at Hansel Oy and the European Commission. Her experience also includes working for the Court of Justice of the European Union.
With various Space, Defense and Technology contracts under her belt over a 5-year period, she has been in charge of establishing and driving uniform legal and contractual processes in her previous position, all with a business-friendly approach. 
"I am glad to be joining the team and my (virtual) door is always open!"
We are excited to welcome her and her precious oversight towards helping us in pioneering today's tech towards tomorrow's sustainable standards.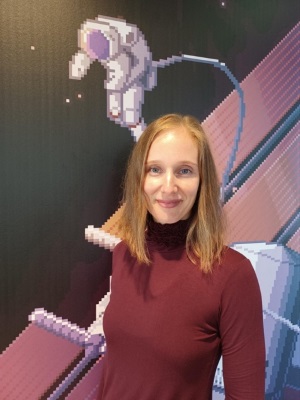 Anna Dimoulis
Legal & Contract Manager at ATG Europe
Anna joined ATG Europe on the 1st of October as a Legal & Contract Manager.