ATG Talk by Simon Foster: Engaging and inspiring the next generation of Space Scientists
Our last ATG Talks took place on the 17th of February 2022 with a one-hour presentation on how inclusivity and education can help local communities build a better future for the Space industry, with Physicists and Engagement lead at Imperial College of London's Space Lab – Simon Foster.
17th of February, 12:00 PM – Simon's enthusiasm could be felt across our monitors. Also known as a TV presenter, script writer and demonstration developer, Simon Foster has had the chance to work on many shows for the BBC, Sky One, Channel 4, Science and Discovery channels, and featured as resident scientist on Sky One's science panel show 'Duck Quacks Don't Echo'
After a few words from our CEO – Gian Carlo COLETTA, Simon kicked things off by giving us a brief overview of Imperial Spacelabs, and some background about the history of public engagement in the UK.
Reminding us of his background, Simon moved on explaining how difficult it was to streamline the funding for the department at Imperial's Space Labs, and how disparate communication had become.
The departments were multiplying and, therefore. They are still growing today as the funding has been growing exponentially. After an extensive list of notorious projects to which Imperial Space labs had the chance to contribute to, Simon touched upon some of his dearest colleagues making it all happen. Filled with fun anecdotes and interesting facts that always know how to grasp our children's mind, Simon asked us to define the first British astronaut in space. Common sense wants us to say – Tim Peak, but it is in fact, Helen Sharmon and Simon happens to now work with his hero.
Moving on to our Sun, Simon showed how much of an expert he is when it comes to teaching us everything about the notorious star. Filled with analogies and interesting photos comparing the sunspots to a boiling lasagna pot or other displaying the Sun's magnetic field through an old cathode rayed tube monitor. Nostalgia kicked in …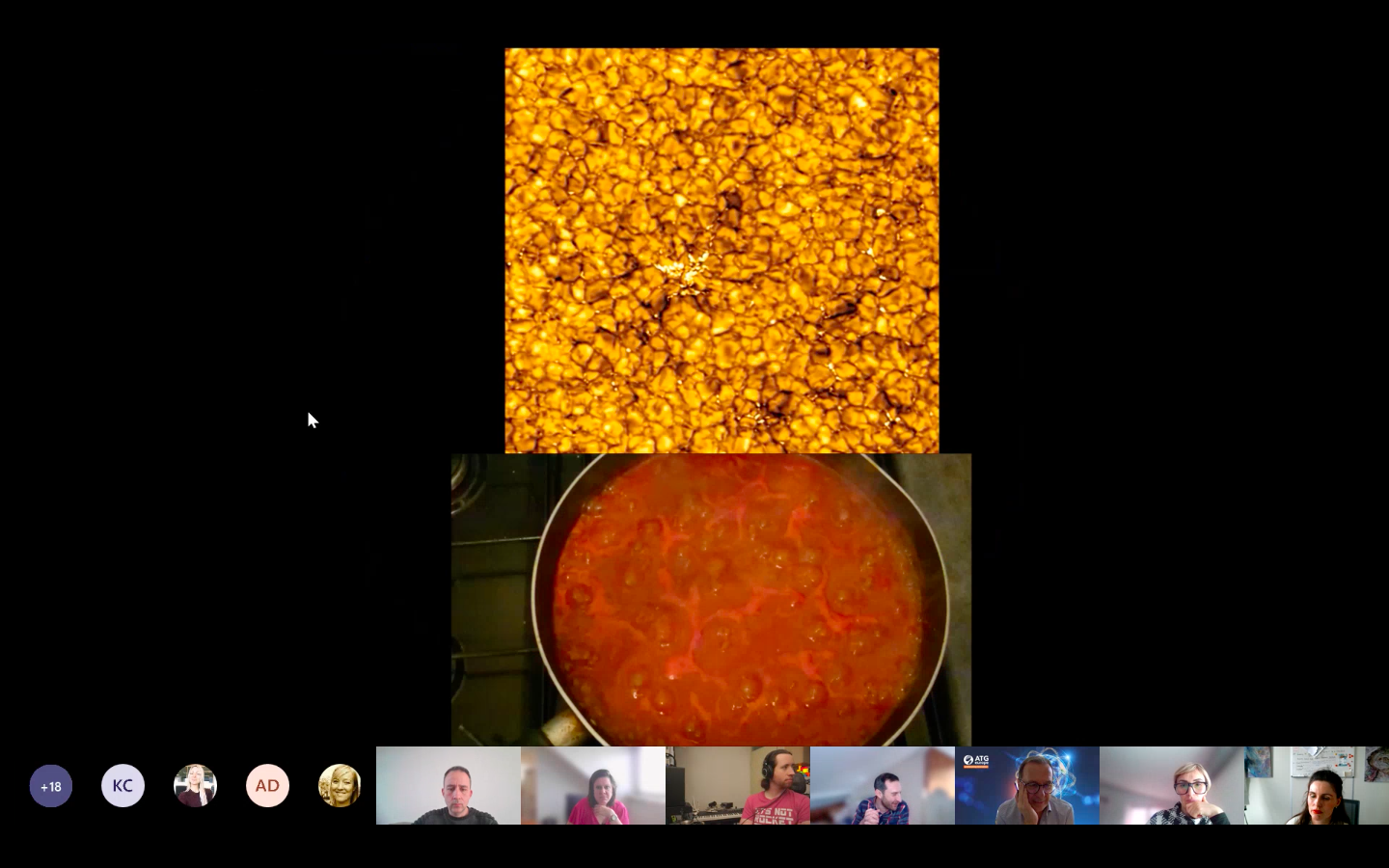 Always relying on a fun story, Simon kept us captivated with all the stories he could teach us about Galileo, fun comparisons, and Martian meteorites he had come across in his career as a scientist, Simon started telling us how important it was to educate all the aspects of our star, especially about its relation to our climate, emphasising why public engagement is important, especially on a historical context.
Simon also mediated the creation of a Science Media center. A fascinating initiative, destined to help journalists, governments, and other engineering bodies to come and ask about all the science taking place at Imperial Spacelabs in London. Helping the public understand, to incite more public funding in the future. Creating a more diverse industry, a more transparent and communicative community based on free education on a far too shadowed discipline, Science and how it can help better the future.
It is also important to mention how students themselves can better pitch the science they practice and how they can improve their talking towards potential investors or major conferences. Simon helped create and lead different steering groups for science students who also want to spread the word in the best way possible, to inspire and better educate the communities. Trying to solve the major education problem that COVID has recently created in the UK educational system with online science tutoring.
After a few positive remarks and questions from our colleagues, such as Alph and Laurens, who were curious about the intricacies of what Simon could teach us about our Sun and its correlations with our climate's urging change.
Everyone felt subjugated by the amount of information Simon could condense in the span of an hour and how inspiring his stories are. Giving us much insight into his practices and how they can better serve the future of Space Engineering communication strategies.
At ATG Europe, our will to innovate also comes from the understanding of how to restitute our passion and what makes up a vital part of our daily lives – Our many, highly technical practices. In fact, it is only by better educating and realising the disparities that lie out there that we can truly contribute to the future of our industry, as well as driving our innovation forward.
​​​​We would like to thank again Simon for joining us, and for his inspiring insights.