ATG Talks on Ingenuity – The First Alien Flight
Presented by Jeff Delaune, Robotics Engineer at NASA's Jet Propulsion Laboratory, part of the Ingenuity Mars Helicopter Team aboard Perseverance.
JPL's very own Jeff Delaune took over our ATG Talks' stage this Thursday 6th of May, to talk us through his participation on the Ingenuity Mars Helicopter as part of the Perseverance mission, which has seen the first flying helicopter drone take flight on another planet.
Our ATG Talks consist in inviting colleagues from ATG Europe and other external speakers from other organizations, to give presentations about their works and achievements within and outside of our industry, and sprout awareness on topics that drive our industry – with the goal: learn more about each other's work, ideas, and motivation and to inspire each other.
The key objective for Perseverance's mission on Mars is astrobiology, including the search for signs of ancient microbial life. The rover will characterize the planet's geology and past climate, pave the way for human exploration of the Red Planet, and be the first mission to collect and cache Martian rock and regolith (broken rock and dust). Subsequent NASA missions, in cooperation with ESA (European Space Agency), would send spacecraft to Mars to collect these sealed samples from the surface and return them to Earth for in-depth analysis.
As part of this ambitious project, Jeff and  the Ingenuity team, and all of the parties that are making it possible. They have had a lot to prepare for Ingenuity's journey as it is planned to continue his mission beyond the simple testing initially announced. 
The slides were like poetry, filled with facts and demonstration videos, Jeff took the time to enthusiastically talk us through the different objectives, challenges, and ambitions of Ingenuity and how he has contributed to its internal coding and flying capabilities.
Jeff kicked things off talking about the team and the purpose of the technology and how it id paving the way to a new era in space exploration following the success of space flights by the Mars helicopter, which could set the stage for flight in other worlds. During the live presentations from Southern California, Jeff said the helicopter could get into areas that other space robots or devices cannot.
"The success of Ingenuity basically unlocked an aerial dimension to exploration," he said. "We can kind of reach some hard-to-reach areas, we can provide images, reconnaissance… the best path to cross."
Jeff and the team at JPL engineered its fourth Ingenuity flight on Mars last week. The 1.8 kg spacecraft flew 140 meters south to collect aerial imagery of a possible new landing zone. Jeff also revealed how the next flight would be a one-way trip to a new landing site. The helicopter will eventually try to fly along with the Perseverance Rover to test how it works as a scout a loyal companion.
Jeff then spoke in detail about Ingenuity's specs and how its two cameras were more detailed than ever before, but still no video capability. The biggest challenge for Ingenuity was the take-off and landing, he added. To get it off the ground, a large amount of thrust is applied to get Ingenuity to the desired altitude. For landing, the helicopter descends at 1 meter per second, he said.
Perseverance touched down with Ingenuity attached to its belly on Feb. 18. Deployed to the surface of Jezero Crater on April 3, Ingenuity has currently exceeded every expectation, leading the teams to expand its mission and start planning an already well underway project: Dragonfly.
The talk was full of nice details and inspiring facts that led to a busy Q&A. Jeff took a good 25 minutes to answers the numerous questions from our COO Massimiliano Mazza and fellow colleagues; regarding the different technical aspects and ambitions of the mission. Enough insights to inspire us all.
This ATG Talk showed how we have come a long way, and how our technology could become the foundation for many exploration projects, reminding us of how some of our teams or other members are actively contributing to them.
We would also like to thank deeply Dr. Jeff Delaune for taking the stage and sharing with us such a  fascinating innovation.
In the meantime, at ATG Europe we believe that our minds and their motivation is also what drives us daily, and that is why our next talk will be centered on Dutch professional kite surfer and world champion, Kevin Langeree – taking place on the 20th of May 2021 telling us on how to keep our motivation at a peak.
Thanks for reading and stay tuned for further recaps!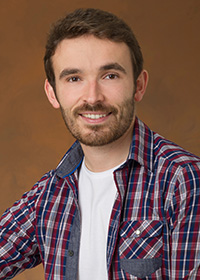 Jeff Delaune
Robotics Technologist at NASA/JPL
Jeff Delaune is a robotics technologist at the Jet Propulsion Laboratory, where he develops autonomous navigation systems for planetary exploration.