Beyond the Borders: Equality in Science for Society
It's been 6 years since the first International Day of Women and Girls in Science (IDWGS), held on the 11th of February!!
This year, the UN Theme is "Women Scientists and the fight against Covid-19", the outbreak of the pandemic having clearly demonstrated the critical role of women researchers in different stages of the fight against COVID-19, from advancing the knowledge on the virus, to developing techniques for testing, and finally to creating the vaccine against the virus. Worldwide, Science Technology Engineering and Mathematics (STEM) remains a male dominated field, even in 2021. The many passionate female, students, scientists, engineers, technicians, professors and astronauts, are still in the minority unfortunately. 
At ATG, and on this day, we are grateful and proud to highlight, acknowledge and encourage our female colleagues in STEM, for their enthusiasm and role in the exploration of the World and Universe around us and inspiring others to follow their lead.For this very reason, we would like to feature our colleagues : Camille Cheyrou and Kelly Matthews, along with all of our 33 STEM based women, bringing the total number of female ATG colleagues to a growing 95. 
Camille Cheyrou – Structural Engineer/ATG SpaceLabs 
Who are you and what is it that you do ?
I'm Camille, a young structural engineer here at ATG SpaceLabs, and I have been proudly living in the Netherlands for the last 4 years. I've had the chance to study for my Masters in Mechanical engineering in Delft and collaborating for my thesis with Airbus Space & Defense. SpaceLabs works on different projects, and I work on several of them, however my position consists mainly in working on ATG's patented composite technology. But 99% of my job consists in composites and structural engineering.  
Lately we have a lot of work going on. We are currently maturing most of our projects along with our colleagues at ESA. We are also  working on some small European confidential project which is very exciting !  
Any accomplishments you wish to acknowledge ?
My greatest accomplishment is taking place today. I'm really proud to be part of the team here at SpaceLabs. My team is amazing and we are currently growing. We are all finding our part in the process and its really gratifying to be at the center of all these projects see it all grow. I also truly feel like my managers trust me, and it makes me feel like i'm doing an amazing job. We are every DIY and we solve problems with our hands, so that's also an everyday accomplishment!  
A message for the woman in science of your generation ?
Go for it and be resilient !! Don't fall for the imposters syndrome and leave your comfort zone. You can do anything you set your mind to.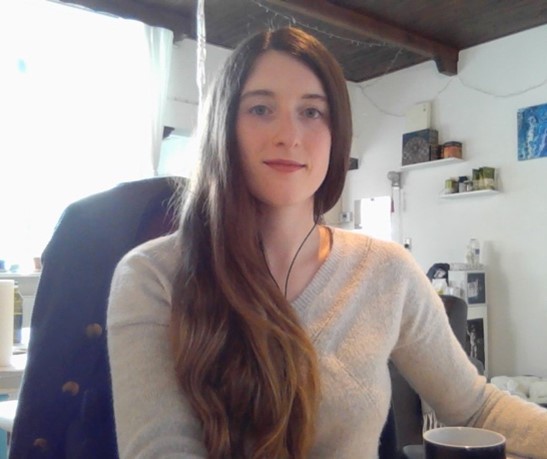 Kelly Matthews (Team Lead ATG Innovation)
Who are you and what is it that you do ?
I'm Kelly, I am a Team lead for ATG Innovation as part of SpaceLabs based in my home country, Ireland.I'm part of a team of 3 passionate colleagues, and we've been fast at work for the last 2 years. We are working on progressing and maturing the composite lattice technology which was originally created at ATG Europe in Noordwijk, in order to eventually implement as part of the inter-stages of future launchers, or as part of the structure of future spacecrafts. I am also part of the CPT1/2 projects which are core tech programs for a division of the European Space Agency.
How did you get here ?
I studied in northern Ireland Aerospace engineer.
Airbus aircraft division 2 year program as a structural engineering. Their culture is to move you around in from a department to another so that you can also find your own way on the long term, find your role. All of this led me to the UK where I got the chance to start a career at Airbus working on the wing structures of the A350. I was then moved to Toulouse where I kept on working for Airbus but I slowly moved on to working on the Beluga. An updated version of the current non commercial heavy carrier. After 8 years I felt like I needed a fresh challenge and wanted to get home to Ireland Airbus helped me grow as a graduate and i'm forever thankful for that.
All this led me to a small team or amazing colleagues and inspiring woman engineers, working on a  renewable underwater turbines. A huge projects that sadly failed due to the complexity and price of the project. I won't lie, it was an overwhelming experience. I sacrificed of a lot of time, but on the counterpart, you learn a lot.
Any accomplishments you wish to acknowledge ?
Difficult question because you never work alone, sometimes in huge teams and these moments are usually shared. But if I had to recall, the A350's first flight – Everybody was given champagne along the runway. It was an exciting but scary and emotional day as anything could go wrong. The entire company and the world was there. This first flight certainly was a global effort.
A message for the woman in science of your generation ?
Do whatever you want to do, don't worry about what the others think or think you should be doing. Maybe it is less applicable today and to my generation but, don't worry about your image, think about doing what you care about.