EMPLOYEE SPOTLIGHT : Dario Barbera – Security & Logistics Manager at ETS/ESTEC
This week we've had the chance to meet Dario BARBERA to talk more about his security and logistics expertise whilst working at ETS/ESTEC – Dario contribute passionately to supporting our client, The European Space Agency, by providing the security framework and logistics guidance for OHB in ETS and more precisely the Galileo program during the Environmental Test campaign. 
As a reminder, our ATG Employee Spotlights consist in hearing about colleagues from ATG Europe inspiring us through their amazing work in organisations. This gives us the room to present their work and achievements within and outside of our industry, and sprout awareness on topics that drive our innovation forward – with one important goal: learn more about each other's aspirations, ideas, and motivations, to ultimately inspire each other. 
Thank you for taking the time Dario – now that we've set the tone, could you tell us more about you and how you came to work for ATG? 
First of all, I'd like to thank you got having me on these spotlight series.  
I am from Italy I am now 32 years old and working in the field of Security for the last 7 years. At first in Italy, in the maritime industry.
I started as part of an engineering school, but that does not make me an engineer. I studied it for one year and switched and graduated in Political science and international relation with a Masters in protection of critical infrastructure and wrote my thesis while working in South Africa on the implementation of security system in line with international standards for different port facility for a maritime company. Everything begun right there.  
This led me to get back in touch with the old continent, joining a notorious company called RINA. Because I always wanted to get involved in a security organization.  
In this frame I would like to say that, to me, security is not all about protecting people from threats, but it's also about making people feel safe in a given ecosystem. Take the maritime industry for example, 80% of all the goods transit with it.
If you can secure this trades wagon, you can ensure the world is safer overall. It's also constant challenge, the threats change, and we always need to stay up to date.   
RINA kept on grooming me, teaching me all the ropes and tricks, making the asset I am today. I worked on different international projects in the Middle East, Africa and furthermore. I felt flexile and I loved it. 
This is also when I was internally pushed towards the space industry, even though I was not convinced. I must admit that back in the day, the space industry was considered obsolete in terms of security. Everything had to be changed due to the past use of technologies, standards and processes. I began a long and tedious learning process in testing.  
This led me to move to RHEA, that luckily took me to Toulouse to assist EUSPA in managing site security for the version 3 of EGNOSS project for a little over of a year. I had the chance there to implement the security framework internationally for all the remote and control stations. 
This takes us to today, wanting to settle personally. Quite luckily, I met ATG through an old acquaintance regarding a Security position on the Galileo program though OHB in Germany at first, and then onto Netherlands.  
Keep in mind, this was also a considerable steppingstone to one of my dreams, which is to one day work for the benefit of NATO, maybe UN and our European security overall.
What does your position entail, what is it that you do today?  
I am the Security and Logistic Manager for the Environmental test campaign for the batch 3 of Galileo latest new batch for OHB, here in Noordwijk at ETS (European Test Service). After reshuffling the classification levels of the Galileo test campaigns and reimagining the internal processes after a couple of challenges were faced due to the Brexit and COVID crisis. I can gladly say I'm still in charge. 
This says it all, I'm a solution and security provider for everything that's Galileo here. I must make everyone follow the rule and make sure there are no problems. Ad most of the time, anticipate the problems before they happen.
My job is crucial in making room in an already very crowded workspace. We were supposed to have two simultaneously satellites on site, now we have well over 6 and it's been like that since January. My days have been very hectic lately. We are classified programs, so I also have to coordinate areas and clearances whilst tracking shipments and deliveries, as well as the organization of the machinery and staff.
BONUS: I get to be the one who escorts the satellite from point A to point B, that makes me its legal protector. *sighs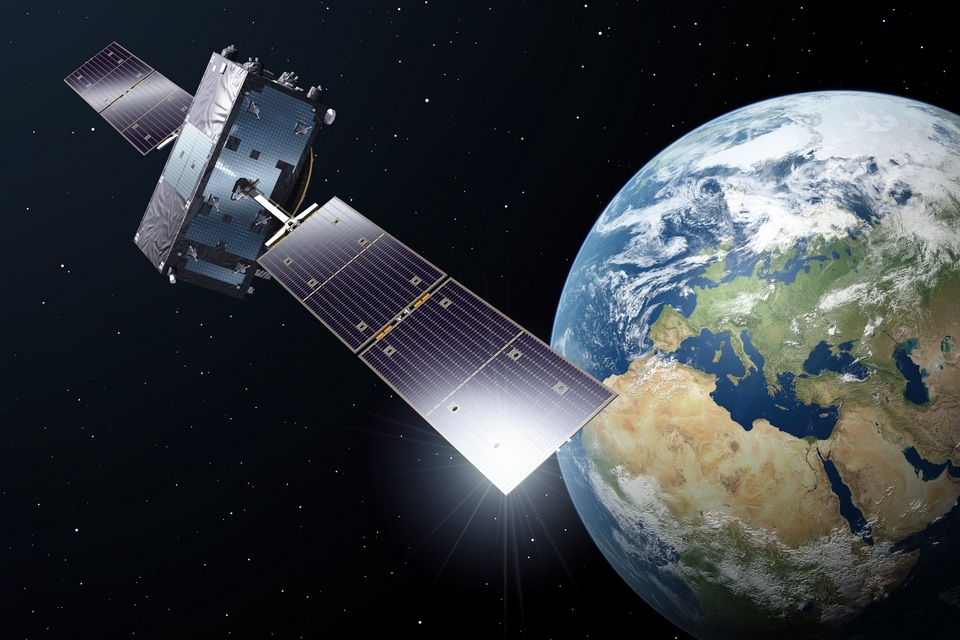 Do you have a story for us in relation your previous escorts with Galileo as part of your job ?  
I do actually … I was present during Galileo's latest cancelled launch due to Russia's invasion. I was on the last, Russian airplane back whilst escorting Galileo to and from the pad. Quite the story … 
It's a story paved wrong from the start. Day one, crew gets COVID, and that caused a first delay amidst of the current storms. We travelled from Belgium in an old Ilyushin plane, military style, watching the satellite carefully until the pad, watching its temperature, internal humidity and keeping the systems safe. Upon arrival in CSG (Centre Spatial Guyanais) in Kourou for launch, we were suddenly held on standby and led back to the airport. The fight had begun and its future, uncertain and out of my hands. 
It's not like the soft rides you can imagine them to be, the satellites do need to be carefully looked after on these long-haul trips. It also requires a lot of trust on behalf of the whole team and operations, I felt honoured. 
I must say, nobody knows Galileo on a personal level like I do. Especially two models, FM25 and FM26.
If someone wanted your job, today, what would he/she need? 
Well, you have to be good in solving problem, and most of the time be good at also failing. This requires determination, determination to solve, determination to succeed, because failure is never an option. Assessing can help, but motivation and a zest of smart stubbornness is the key. 
Luckily for me, I've always done that as a kid and its natural. Almost like a second instinct. It's part of my personality and I'd advise to make it yours! *smiles 
Are there any career or personal acknowledgements you'd like to make? 
To be honest, I am happy to have reached the place I am at now. And I truly hope to continue what I am pursuing. As for what I did for Galileo, I hope I helped enabling Europe in some way, but also in a more general way. My dream will always be to make people feel safe, no matter the industry. I simply hope I will always be able to be a true enable and make thing right.
Being surrounded by it daily, what does innovation mean to you?  
Innovation to me is another way to say dream. Why? Because its only something you can fathom or dream of, put the brain and the tools to work and make it happen. It's beautiful but tricky at the same time. It's full of opportunities yet they are all to be discovered. Innovation is the true word for enabling!  
Any fun facts about you that not many people know?  
Well, I was born to sail and raised within an expanding maritime industry. I know my way around a ship, and don't get seasick. Sadly, it all came with lost hopes of one day becoming a Captain due to my current yet minimal, eyesight. 
What would you be doing if you weren't doing what you're doing today?  
I also had a vision of being an Anthropologist in Africa, it's always been a plan C for me *laughs 
We would like to thank Dario for taking the time to answer these questions which fully reflect the ambitions that ATG Europe holds dear. Best of luck for what's to come!